Dear Zumbro Runners,
Yesterday, Sunday April 2, I was at Zumbro clearing more fallen trees from the race course after Friday night's heavy rain, ice and snow. While doing so I discovered significant flooding to the East of the 'Iron Bridge'. The entire outbound 'Bridge Trail' was completely submerged in what I estimate to be up to 5 feet of water in places. A significant stretch of the return trail 'Zumbro Bottoms Road' was knee deep, with current. This is the first time I have ever seen the river and surrounding low areas at this level the week of the race. This is not entirely surprising after near record snowfall totals this Winter, the slow / late thaw, and Friday's significant rain, ice and snow event.
Key points:
• Runners safety is our top priority.
• After careful review, we are NOT planning to cancel since we have a viable contingency plan.
• If flooding persists we will run a modified course. We are in the process of identifying an approximate 5.6 mile loop entirely on the West side of the river. This would equal 3 loops for 17 miles. This is about as long of a loop we can create as there is not much trail on the West side of the river and some of the trails are not usable this year due to logging operations.
• There is a real possibility that the river will recede to the point that we can safely get on the East side of the river in order to run a slightly modified full 17 mile loop (see graph below). This may entail some standing water crossings which is not unprecedented at Zumbro. We will only do this if they are not too deep / it is safe to do so.
• There is an outside chance the river will recede to the point that we can run the 17 mile loop unmodified.
My schedule this week is as follows. Truck loading and administrative today, course scouting tonight. Truck loading and administrative tomorrow, course scouting tomorrow night. Course marking and final tree clearing Wednesday (they just keep falling). Mobilize, then start / finish area and aid station setup on Thursday. I will be back in touch with more information by Wednesday night. Please note that if you contact me, it may take me a little longer than usual to get back to you due to the added challenges this week.
As we all know, Zumbro is going to Zumbro – welcome to, or welcome back to the Zumbro Experience. The weekend weather is looking great (knock on wood), we have some super cool beanies packed in the trailer, have enough ingredients to make 350+ pizzas, have an awesome playlist and more than enough coffee and firewood to last two days. It's going to be great to get together after a long Winter.
​Thank You,
John Storkamp
Race Director
racedirector@zumbro100.com
—-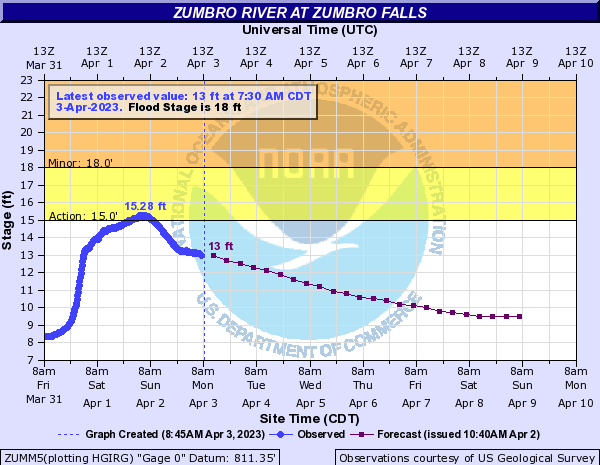 ​* According to this graph, the river "crested" yesterday / April 2 and is now receding.​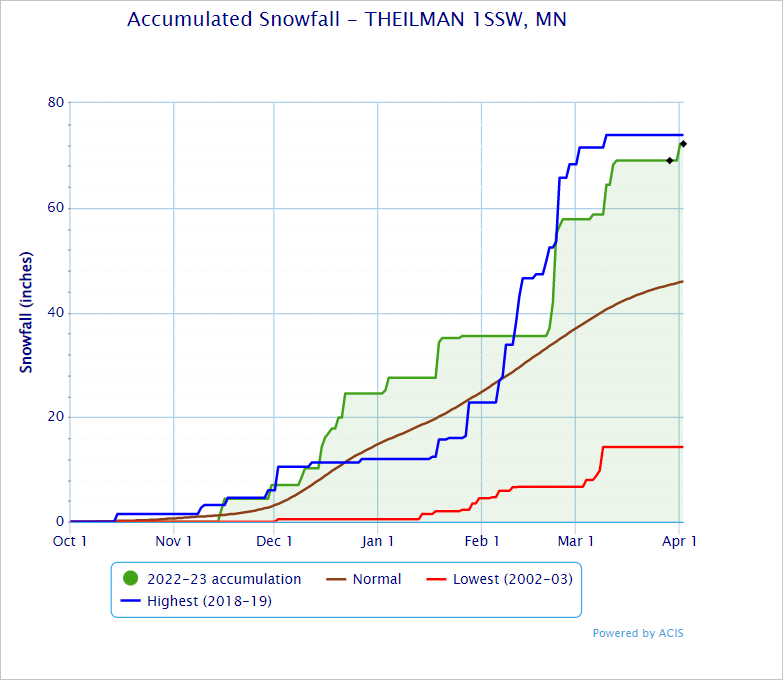 ​* We are just about tied for the snowiest Winter in in recent history in Theilman (town closest to Zumbro Bottoms)​