Zumbro Endurance Run Covid 19 Preparedness Plan, Event Logistics Plan and Participant Guide for the 17 & 34 Mile Events 

Event dates April 8, 9, 10 & 11, 2021

About this document:
The 'Zumbro Endurance Run Covid 19 Preparedness Plan' intends to achieve the following;
1.) To communicate to the Minnesota Department of Natural Resources (the landowner and permitting agency for the event), the Minnesota Department of Health, local emergency managers, surrounding communities, participants, staff and volunteers, the steps we will take to mitigate the transmission of Covid-19 while providing the safest and most enjoyable event experience possible for our participants.
2.) To communicate to our participants, what they can expect from this year's event; beginning with the registration process, during the event and after the event has concluded.
3.) To provide an overall event guide, containing a set of Covid-19 specific protocols for participants, staff and volunteers to follow.
We feel that outlining this information in plain language via a single unified document will provide the greatest level of transparency and understanding of the entire event among all stakeholders. By intertwining Covid specifics with event logistics and participant information, everyone that would like to participate will be compelled to read this document. The plan illustrates what our Covid-modified event will look like while encouraging the greatest level of adherence to the protocols set forth.
Zumbro Endurance Run Overview:
The Zumbro Endurance Run is a trail running event that takes place annually in the Zumbro Bottoms Management Unit near Theilman Minnesota. The Zumbro Bottoms Management Unit is classified as state forest, and while it is technically public property, it is not a state park and not subject to heavy use during the month of April. A rough / observational estimate of the number of non-event-related day users, using the management unit during the traditional event weekend is between 5 and 10 individuals in total. The management unit is approximately 4000 acres in size. The 'West Assembly Campground' area that we use as our start / finish and race headquarters is approximately 18 acres. Beyond a couple of dispersed open air pavilions and vault toilets, there are no indoor facilities at Zumbro Bottoms.
The Zumbro Endurance Run was officially founded in 2009 after being held as an informal fun run for several years prior. It is held annually each April, over a two day period. Event weekend has historically consisted of three distances being run simultaneously; including 100 mile, 50 mile and 17 mile distances. The event is organized by Rocksteady Running. Rocksteady Running produces nine trail running events each year in the state of Minnesota. The mission of Rocksteady Running is to "create experiences that facilitate connection" – connections with each other, with our physical, mental, emotional and spiritual selves and with the natural world around us. Our events are a celebration of living healthy, active and meaningful lives.
The 2020 edition of the Zumbro Endurance Run was canceled due to Covid-19. We hope to hold a Covid-modified event in 2021. We intend to do this in a safe, responsible and respectful manner. We have carefully reviewed publicly available Covid-19 information, data and science. Coupling insights from many sources, and grounding our protocols in the available state guidance, we are confident in our ability to hold a safe event. While running events are not classified as essential; physical, emotional and spiritual health and wellness are – our events are a catalyst for these important things, made even more important after the year we all just experienced. Outlined below are the steps we will take to ensure the safest event possible in light of the ongoing, but presently improving, Covid-19 pandemic.
What to expect:
Runners who are considering participating in the 2021 event can expect a safe, fun, quiet and extremely low-key experience. In order to ease back into events, we will not be holding the 100 mile or 50 mile races in 2021. Instead we will offer two distances, the 17 mile and a new 34 mile distance. Both distances will be offered each day, over four concurrent days – Thursday April 8 through Sunday April 11. There will be no mass starts or even small group starts as has become normalized at running events since the onset of Covid-19. Instead, runners will choose one of ten, 15 minute windows, between 6:00AM and 9:00AM each day, in which they can start their run; there will be 22 available spots (11 in the 17 mile and 11 in the 34 mile) within each window for a maximum of 220 runners per day. Runners may start alone, with someone from their own household, or from within their pre-existing bubble, i.e. family, co-workers, or those that you have specially and specifically chosen to be in your bubble as long as those individuals have also secured a spot in the same window. Please do not use this event to co-mingle with new people who are not already in your day to day bubble.
Our plan is rooted the following concepts:
• Zumbro will be a smaller, quieter and a greatly simplified event. Event distances will be shorter and spread out over more days than usual in order to keep daily attendance numbers down, so physical distance can be maintained.
• There will be no mass or even small group starts, instead each runner will start on their own and be individually timed.
• Any and all aspects of the event that normally encourage congregation will be eliminated including but not limited to; elaborate aid stations, merchandising, sponsor booths, post event food / festivities, awards, posted results, etc.
• All event activities will be completely outdoors.
• Participants are discouraged from long distance travel in order to participate.
• Runners, staff and volunteers will be required to stay home if they are sick or have been exposed to someone that is sick.
• Spectators will not be allowed.
• Proper and frequent hand hygiene will be encouraged and numerous hand sanitizing stations will be available.
• Wearing a mask will be required, except when running. Runners and volunteers will be expected to provide their own masks, however we will maintain a cache of masks in the event that a participant forgets or loses theirs.
• Touchpoints and surface areas will be routinely cleansed.
• Maintaining physical distance will be expected.
– Below are the specific measures we will take in order to stay in compliance with these stated goals.
The event will not be finalized and scheduled as far in advance as normal:
We normally open registration for the Zumbro Endurance Run in November for the April event. By not opening registration until 60 or even 30 days out from the event, we will have the most accurate picture possible of where things stand with the virus and associated state guidelines. This fits with the current DNR guidance that events will not be reviewed / permitted outside of 60 days from an event. These short timeframes will allow us to make the most prudent decisions possible as to whether or not to hold the event and will inform what additional protocols may need to be implemented based on up-to-date public health guidance.
No advanced collection of entry fees:
Once registration is open, runners will provide their contact information, other event pertinent information and their payment details, but (radically) will not be charged the entry fee until one day prior to the four day event commences – registrants cards will be charged on Wednesday April 7, 2021. If the event must be canceled, prior to us charging your card on Wednesday April 7, your credit / debit cards will not be charged. Once your card has been charged, there will be no refunds and our standard registration policy (published later in this document will apply). This will allow us to stay dynamic and react to any increase in severity of the pandemic and / or any changes to state guidelines. In order to achieve this level of flexibility, we will not print t-shirts or medals in advance of the event and will generally reduce amenities provided before, during and after the event. Instead, t-shirts and finisher medals will be produced and mailed to our runners after the event successfully takes place – this cost to mail these items is included in the entry fee. Additionally, these practices will further reduce the number of touchpoints / contacts throughout the event.
Daily field limit of 220 runners, total daily attendance of 250:
Zumbro normally hosts 900+ runners, 200+ volunteers and 500+ family / spectators over a two day period (Friday morning through Saturday evening) – runners participating in 100 mile, 50 mile and 17 mile distances all taking place on the same 17 mile loop course. For 2021 we will host no more than 220 runners per day, but will do so four days in a row. There will be a 17 mile and 34 mile distance offered each day. The event will be run by a very small crew of staff and volunteers numbering no more than 25 each day. We will make every effort possible to have volunteer groups from the same household or from an existing social or work bubble assigned together. Largely, runners will be responsible for themselves with a minimum of event / volunteer support. As always we will coordinate closely with local emergency services to ensure that the greatest margin of safety possible is built into the event.
Pre-selected start windows:
The event will be conducted in a time-trial type format, runners not corralled or held until a specific start time. Runners will start on their own, within a pre-selected window and each runner's individual start and finish time will be recorded, producing a net time. At the time of registration, participants will have the opportunity to choose their desired start time / 15 minute start window (subject to availability / first come first served). There will be 10 start windows available each morning, each with 22 runners (11 in the 17 mile and 11 in the 34 mile). The first available 15 minute start window will begin at 6:00AM each day and the last will begin at 9:00AM. The individual time-slots / windows will be as follows:
6:00 AM (must start running between 6:00 and 6:15)
6:20 AM (must start running between 6:20 and 6:35)
6:40 AM (must start running between 6:40 and 6:55)
7:00 AM (must start running between 7:00 and 7:15)
7:20 AM (must start running between 7:20 and 7:35)
7:40 AM (must start running between 7:40 and 7:55)
8:00 AM (must start running between 8:00 and 8:15)
8:20 AM (must start running between 8:20 and 8:35)
8:40 AM (must start running between 8:40 and 8:55)
9:00 AM (must start running between 9:00 and 9:15)
Runners may start checking in no more than 15 minutes prior to their start window and shall not congregate near the check-in or start areas prior to that time, remaining near their vehicles or spread out on the 18 acre start / finish site.
Registration Specifics:
Registrants from the weather cancelled 2018 and 2019 events along with those from the 2020 Covid canceled event will have the first opportunity to register via our registration provider UltraSignup via a special invitation matched to the email address we have on file, this special registration period will last about one week. If your email address has since changed, you can contact us to provide updated information and we will send you an invitation. After that time, registration will be opened up to everyone else on a first come first served basis. When you register, you will sign up for a start day and a start time / window as outlined above. The 17 mile will be $65 and the 34 miles will be $85. You will provide your payment information, but uniquely, your card will not be charged until one day prior to the event – Wednesday April 7, 2021. We are doing this because of the chance of a Covid 19 OR weather related cancellation as we have experienced at Zumbro in the past. After registering, you will be able to retract your registration up until Sunday March 28 and not be charged. If you do not retract by Sunday March 28, you will be charged on April 7, regardless of showing up and participating in the event, as we want to ensure that those who are signing up and claiming limited spots are fully intending to run / so available spots are not claimed by those who are not intending to run. Once registered, you may switch your preferred time slot to a new time slot (if available) via UltraSignup. Registration will close on Wednesday March 31 at 11:59PM. If you become ill prior to having the opportunity to retract your registration, please contact us via email. Please note that in order to not charge registrants up front, we are leveraging the built in 'waitlist / lottery' functionality within UltraSignup. Registration for each wave is on a first come first serve basis, but once you successfully register for an available wave, you are guaranteed that spot.  Your registration confirmation will make reference to 'waitlist / lottery' but all this means is that we will not be charging your card until Wednesday April 7, one day before the four day event commences. After reviewing this document in its entirety, you can register HERE https://ultrasignup.com/register.aspx?did=83752
No long distance travel:
Our events routinely draw participants from multiple states and countries. For the 2021 event we are asking that if extensive travel (i.e. air travel or multi-day travel) would be required in order for you to participate in the event, that you please skip this year and race closer to home. We cannot wait to welcome our entire trail family back in 2022.
Stay home if you are sick or not feeling well:
Runners are required to stay home if they are Covid positive, have been exposed to someone that is Covid positive in the past 14 days, are not feeling well or are experiencing any of the following symptoms. We will email this reminder to runners in the week leading up to the event. We are allowing registrants to retract their registration up until Sunday March 28. If you develop symptoms or test positive for Covid-19 between March 28 and event day, please contact us.
• Fever or chills
• Cough
• Shortness of breath or difficulty breathing
• Fatigue
• Muscle or body aches
• Headache
• New loss of taste or smell
• Sore throat
• Congestion or runny nose
• Nausea or vomiting
• Diarrhea.
* List of symptoms from: https://www.cdc.gov/coronavirus/2019-ncov/symptoms-testing/symptoms.html
No spectators allowed:
Runners may travel to the event with other registered runners from their household or others already in their social, work, etc. bubbles only. For safety, those participants under the age of 18, over the age of 65, or those with a disability may have one family member / supporter at the event, but that family member should not wait for them at the start / finish area, instead must wait at / near their vehicles or generally where others are not gathering – the campground that acts as our start / finish area is approximately 18 acres with plenty of room to spread out.
Masking:
Masks will be required for participants when not running (parking lots, bib number pickup, bathroom lines, start/finish area, start lines, finish line). You will be responsible for providing your own mask. Masks will not be required while running. Where practical runners should pull up their masks at water stops. Staff and volunteers will be required to wear masks. We will maintain a cache of masks in the event that a participant forgets or loses theirs.
Hand hygiene:
Hand sanitizer will be available near portable restrooms, at the start / finish area, and at water stops. Runners, volunteers and staff are encouraged to sanitize their hands frequently. Additionally, we will have an ample supply of loose fitting / easy to put on and take off, food service gloves. While this does create some plastic waste, it is overall fairly minimal in total volume of plastic and is further mitigated by the fact that we will not have bags at bib-number pickup nor will we have cups at water stops.
Cleanliness:
Staff / volunteers will wipe down all touchpoint / surface areas regularly with disinfectant.
Physical Distancing:
Wherever possible runners, volunteers and staff shall maintain a minimum of 6' of physical distance from those not in their household or pre-existing bubble – 10' is even better.
Getting to Zumbro:
Please review important specifics about getting to Zumbro provided HERE https://www.zumbroendurancerun.com/getting-to-zumbro/
Camping:
If you are camping the night before you run, there is PLENTY of room to spread out.  The daily camping fee is $17 which you will need to pay at the kiosk at the entrance of the West Assembly area.
Event Day Check-In / Bib Number Pick-Up and Run Start:
Bib number pickup stations will be well spaced. Volunteers will be behind plexi-glass, and signage will remind participants to maintain at least 6' of physical distance while in line. Due to the pre-assigned / staggered start windows, lines should naturally be short. We will check you in so we have an accurate accounting of who is starting the run and we will hand you your pre-assigned bib number. You will then proceed to the start, making sure your bib number is clearly visible on the front of your body and recorded by the volunteer at the start line as you start. Please make eye contact with, and get the go ahead from this volunteer prior to starting your run so both you and the timer are confident that your start has been recorded.
Race Course:
HERE https://www.zumbroendurancerun.com/maps-and-data/ you can find a map of this years race course. It is pretty dang challenging. Per 17 mile loop you get 13 miles of SAND, mud, hills, rubble and repeat totaling over 2100FT of elevation gain in those first 13 miles.  From there, the run-in from Aid Station 2 / Central to the finish is about 4 miles of pancake flat, which will be hard for many to take advantage of after what they just went through… again, it is a heck of a course.
Course Marking:
The course will be marked with Orange flags, which will always be on the left hand side of the trail except in the rare occasions where there will be two-way traffic, in those areas the flags will be on both sides of the trail – arrows will be used sparingly as well.
Headphones and Out-Loud Music:
Out-loud music is prohibited but you may wear headphones as long as you are aware of your surroundings.
Litter:
Obviously don't do it. If you see any, and it is hygienic to do so, please pick it up – otherwise our (volunteer) course sweepers will pick up anything that is found.
Water Stops / Aid Stations:
Runners are encouraged to make use of hydration vests, packs and handheld bottles so they can run an entire 17 mile loop on the hydration and nutrition that they have brought with them to the event, and carry with them from the start. Our water stops / aid stations will be highly modified and greatly simplified. If you carry enough water, you will not need to use them and will be able to bypass them. Should you run short on water, you will be able to self-serve, into your own drinking vessel, from 7 gallon water jugs placed on picnic tables. These water stops will be at mile 5 and 13.5 (5, 13.5, 17, 22 and 30.5 for the 34 mile). There will be NO food / nutrition / calories, sports drink or cups provided at the water stops, please plan accordingly. There will be hand sanitizing stations on both ends of the water stop (entrance and exit) that you will be required to use if you are getting water. Additionally for those that would like to take the extra precaution, there will be loose fitting / slip-on plastic food service gloves available for use when dispensing your water, and a garbage can to dispose of the glove(s). Any volunteers you encounter at the water stops will be there as observers only, making sure Covid protocols are being followed, making sure water jugs are full and there should a runner have an emergency to report.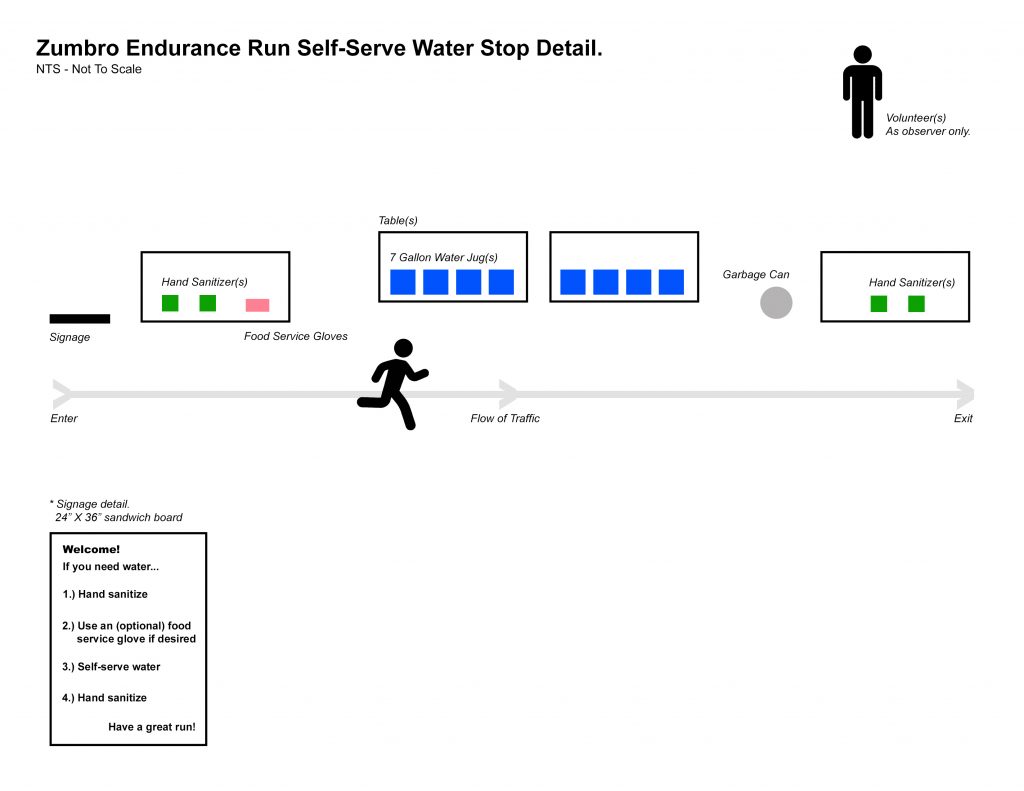 Drop Bags:
Runners participating in the 34 mile run will run two loops of the 17 mile course. They will have the opportunity to leave a drop bag adjacent to the start / finish area in order to access after completing their first 17 mile loop. To encourage physical distancing, drop bags will be left out in the open (read; not under a tent) so drop bags should be waterproof and you should not leave valuables in your drop bags. Runners may also leave their drop bag in their cars and return to their vehicle for anything they need, provided that they cross through the 17 mile split point, either immediately before or immediately after they visit their vehicle. This is in order to provide an accurate 17 mile split and to assist in general runner tracking.
Weather and Clothing:
Early to mid-April in Minnesota – we can have highs in the mid-70's and lows in the low-30's or a combination of both!  The weather at Zumbro can change quick and can be unforgiving – the blufftops can be subject to extremely high winds.  Watch the weather, plan accordingly and have some options on race day.
Cutoffs:
The finish line will close at 7:00PM each day. Depending on what start window you choose, this will allow between 10 and 13 hours for you to complete either the 17 or 34 mile distance. Generally, we encourage the 34 mile runners to sign up for the earlier time slots and the 17 mile runners to sign up for the later time slots. If you feel you cannot finish the 34 mile distance in the time allotted, we encourage you to sign up for the 17 mile. There will be an intermediate cutoff of 2:00 PM for 34 mile runners regardless of your start time; in other words, 34 mile runners must be through the 17 mile checkpoint (located at the start / finish area) by 2:00 PM or will be pulled from the course.
DNFs:
As always, should you need to drop out of the run, you must let an event official know. This is for safety / runner tracking so we have a complete accounting of who is on course at all times.
Emergencies / Hospital Information:
For Emergencies Dial 911
Google Map Directions in printable .PDF format to Wabasha and Rochester Hospitals click HERE
Wabasha (Local Hospital / Closest Option)
St. Elizabeth Hospital
1200 Grant Blvd. West
Wabasha, MN  55981
Telephone: 651.565.4531
Emergency 651.565.4531
Google Map LINK
Rochester (Advanced Medical Care)
Saint Mary's Hospital
1216 Second Street Southwest
Rochester, MN  55902
General Number 507-255-5123
Google Map LINK
No congregating at the finish line:
Upon completing the course, runners will need to leave the finish area, make their way to their vehicles and depart for home once they are composed and feel safe to drive. The parking area for the event is within a 18 acre campground, and there will be picnic tables near where you park – this is a place where you can unwind and regroup prior to departing. Additionally, this is a good place to hang out if you are waiting for a friend or family member to finish. Please do not wait near the finish line / area for your family / loved ones to finish.
No post event party / food / refreshments:
Typically we encourage sticking around after our events and socializing. We often provide food and refreshments. For 2021, there will be no post event gathering, food or refreshments provided. Runners should plan to have needed sustenance with them / in their vehicles for when they finish.
Results:
Results will be posted on our website within a few days of the last day of running (Sunday), so, the week of April 12.
Awards:
There will be no awards, either overall or age group. By having made it through the past year we are all winners – let us celebrate that.
Additional notes about the 2021 Zumbro Endurance Run:
• In order to keep pre-event costs down in the event of a cancellation, we will not be producing shirts or medals in advance. Instead we will start producing them and will ship them in the weeks after the event. Please note that the medals will be different than in years past so we can ship them more easily and cost effectively. Also, please note that not all runners are guaranteed to receive the same color shirt – Covid related supply chain issues will potentially affect our ability to source all of the same color shirts.
• If you would like to train at Zumbro prior to the event please review the following https://www.zumbroendurancerun.com/training-at-zumbro/
• The finishers medals will likely be different than in years past in order to allow them to be mailed to you more easily and cost effectively. We are actually really stoked about the new design and think you will be too.
• In order to make the event accessible to as many runners as possible, entry fees will be on par with years past. While some expenses will decrease due to less event day amenities, other costs will significantly increase due to Covid modifications / protocols – in general more event days and covid protocols will make these events more expensive to produce. If you have the ability to and would like to, anything additional you can donate beyond the base entry fee is greatly appreciated – you can make a direct donation to us HERE https://www.rocksteadyrunning.com/product/donate/ By participating in the event you are not only getting out and doing something healthy and life affirming, while experiencing an area / course you might not otherwise, you are supporting our organization so we can continue to be around in the years to come.
• (Once processed – see specific protocol / timelines above), entry fees are not refundable under any circumstance, race registrations are not transferable to other participants, future years races or other Rocksteady Running events and transferring between distances (up or down) is not allowed. The Race Director reserves the right to modify or cancel the race or course for safety concerns, trail condition concerns, natural disaster or pandemic. In such cases there will be no refunds of race entry fees. Each athlete must accept any such risk of their entry fee paid. There is no complimentary race entry to a future race. Entry fees collected are used to develop and produce the event, starting well in advance of the race date – including course preparation, race supplies, permits and administration. We will make every effort to produce a fair and safe event for all participants. Any decision we make that impacts the race date or potential cancellation is carefully considered and based on the overall event safety, sustainability and manageability.
A few words about Rocksteady Running in 2021:
Please note that in order to have this shot at holding events in 2021, and put forth the radical entry fee policies set forth in this document, over the past year Rocksteady Running has had to morph into a much different organization than we have been over the past number of years. My wife Cheri and I's ability to work fulltime on events in the weeks and months leading up to them will be greatly diminished as we have had to further pursue additional income sources / careers, which fragments our time to work on events. Note that this will likely affect our ability to get back to you as quickly if you have questions, reduce pre and post-event media coverage, affect our ability to attract and service sponsorship deals, affect our ability to provide as robust aid stations, will impact the scope / number of event amenities and more. All of that said, we will always prioritize event safety, emergency preparedness and event fundamentals while striving to provide a positive and engaging experience for all. We are grateful for the opportunity to carry on – an opportunity only afforded to us by the graciousness of our 2020 registrants, in light of our longstanding registration and refund policies.
In conclusion.
We love you and we care about each and every one of you. Nothing will ever be the same, but that does not mean it will not be great… maybe it will even be better than ever. I am excited to see what the future holds. Most importantly, let us never forget the more than half a million people we have lost over the past year and the front line medical workers that are the true heros of this awful pandemic. I encourage you all to take a moment, a deep breath, and think about those we lost this past year before you start your run in April. May you run with gratitude in your heart as you take in the raw beauty of the Zumbro Bottoms along the way. Please reach out if you have any questions, I am always here for you.
Humbly and Respectfully,
John Storkamp

Owner / Founder of Rocksteady Running
Race Director of the Zumbro Endurance Run
Or