Rarely does a race come down to a couple of seconds – never does a hundred.  In 2012, Bob Gerenz (then, relatively unknown in the Midwest ultra scene)  put his head down, kicked and kicked again and took the win – only two seconds separated him and the 2nd place finisher.  We threw a few questions at Bob about the exciting 2012 race as he prepares to come back and defend his title in 2013.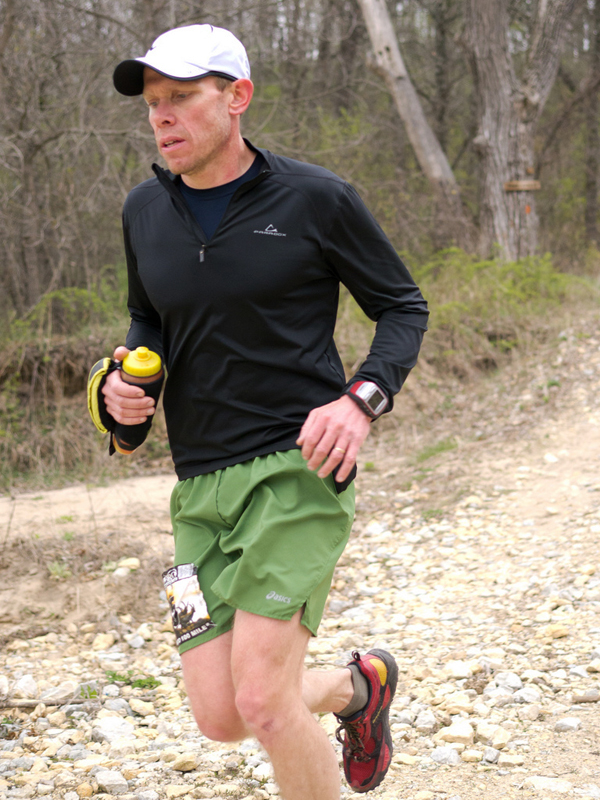 Bob, congratulations on winning the 2012 Zumbro 100 Mile Endurance Run and setting a new course record.  Was this your first time running the Zumbro 100?
2012 was the first time I ran Zumbro.
Were you doing any training on the course prior to the race?
On March 24, 2012, I went to the river bottoms with one of my pacers and ran as much of the course as we could figure out from the map.  We missed a few of the single track / deer trails, but we got a taste of the area / terrain.
A lot of people at the race were commenting that they had not heard your name before – I think everyone remembers it now!  What is your running history and what led up to running the Zumbro 100?
I started running in junior high and high school on the cross country and track teams.  I don't know really why I chose the running sports, maybe it was because I felt I wasn't big enough for football or maybe because I kind of liked the independence of running even though it is a team sport.  I gravitated toward the longer distances.  I was never really a speed guy.  I ran for a couple of years at the University of Minnesota, Duluth.  After college, I ran a variety of 5 and 10k races, and then my first 26.2, Grandma's marathon in Duluth.  The marathon was hard, and of course there are always parts of an event that are no fun and other parts that are exhilarating.  It felt good to complete that long of a race for the first time.  Over the next few years, I completed Grandma's several more times.  Then I took some time off from running, probably because there were other time commitments – my wife, children, house projects and work.  Then after about nine years, I decided to start running again.  That's when I discovered ultras.
What were your impressions of the course, its difficulty, the scenery and the fact that the course is 6 loops?
I wasn't sure about the 6 loops, because I didn't know if loops were going to wear on me mentally.  They did.  Everything I didn't like, I got to see 6 times.  It was a difficult course.  But, as the day went on, the familiarity of the course took away most surprises, except for thunderstorms.  I found that loops are easier to crew for.  I knew where my crew was going to be and I looked forward to seeing them every lap.  Also, it is great when you recognize the aid station volunteers and they recognize you.  Some friendships are made.  I learned in the Superior 50 miler not to look at the scenery.  When you look at scenery, you trip and crush your handhelds.  The hills, both up and down, were really tough, but I think the worst, for whatever reason, was the series of little rollers coming into aid station number 3.  I did not like them.
Did you have a plan coming into the event in 2012?  Were you looking for a CR or the win?
As a matter of fact my friend Mike Nicholls started talking about Zumbro in the fall of 2011.  At the time, I didn't pay too much attention.  I was registered for the Leadville Trail 100 miler.  That was going to be my first "Hundo".  Then, Mike, I and some of our running friends (the Foolish Soles) went to Bandera, Texas last January to run the 100K.  And Mike kept talking about Zumbro.  So when we got back to Minnesota, I decided that I should do a 100 miler that was not at altitude to see if I could cover the distance.  So I registered for the Zumbro 100.  My goal was to complete the course in 24 hours or less.  That was it.
Besides the exciting "sprint finish", were there any other pivotal moments in the race that stick out for you? 
For whatever reason, lap 2 was kind of a big lap.  Several things stand out.  The front group broke up sometime around the 1st aid station.  That was the beginning of more alone time.   A little while after leaving the 2nd aid station, just before the climb, I started getting the shakes that occur when you haven't been eating.  That freaked me out.  It was too early in the day to be having a calorie problem.  So, I slowed to a walk and started eating and drinking everything I had:  2 oatmeal pancakes, a cereal bar, 2 gels, and ½ of the beverage in my handheld.  By Picnic Rock I was back to normal.  I promised myself I wasn't going to let that happen again.  And lastly, I caught up to Mike (the leader) a mile or 2 before the end of the lap and I took over the lead.  That was really weird.  Taking over the lead was not part of my pre-race strategy.
So the finish was probably one of the most exciting finishes at any ultra run anywhere in the world in 2012 with Matt Aro catching up to within a 1/4 mile of the finish and the two of you finishing seconds apart – can you tell us your memory of what went down?
It was early morning.  It was dark.  I was tired. I was running with my pacer, Gary.  Our information had us maybe 15 minutes ahead of the next runner.  I didn't know it was Matt.  Gary and I were just moving through the aid station as efficiently as we could and were just trying to finish this thing.  Then, with I think just over a ½ mile left, Gary and I were approaching the jeep trail from the single track and a guy (Matt Aro) came up behind us and we let him go around.  At the time, I didn't know who it was.  There were a lot of people on the course (50 milers, lapped 100 milers).  After he passed, I knew who it was, because I ran with him during the first and second lap.  So Gary, Matt, and I went off the single track and onto the road headed toward the finish together.  We engaged in some chit chat as to how the race was going.  Neither of us said what lap we were on.  Finally, I asked Matt what lap he was on, and he said he was about to finish, he was on his 6th lap.  I said I was too.  And without a word, my pacer, Gary took off and motioned me to follow and keep up.  I fell in behind him with Matt behind me.  We were running crazy down that road, everyone holding position.  I was watching for landmarks, the light from our headlamps bouncing everywhere.  I was watching for two sign posts that were relatively close together and the green gate, and everything came up so fast.  We all held position (Gary, me, Matt).  We went up the little hill and then past the green gate into the camping area, and the finish was somewhere around 150 and 200 yards ahead of us.  The finish was all lit up and Matt and I just ran and ran.  I did not know how close he was.  I just knew I had a step on him.  We both continued to run crazy and in the end we were separated by 2 seconds.  What a race!  Matt is an excellent runner and competitor.  It was an unreal way to end a 100 mile journey.
You are planning on coming back in 2013, is this in defense of your title, lowering the CR, or do you have something else in mind?
I am registered for this year's Zumbro 100.  I'm looking forward to the event.  I like to check the "Who's Registered List" every couple of days.  A lot of things can happen in 100 miles.  Who knows how the journey will end?
Any other thoughts or memories you would like to share about the Zumbro 100?
Zumbro was my first hundred.  I will never forget the experience.  I remember packet pick up and not knowing anyone and the nerves at the start.  I ran with some great runners (Matt A., Joe, Ed, Brian, Mike, Matt L.)  The course was challenging.  The weather also added some trials.  I had an awesome crew.  I will always remember my wife Sue (crew chief) freaking out at the end of the second lap when I was in first place.  The volunteers did an outstanding job.  I will always remember the finish with Sue, friends and family.  It was a life changing experience.