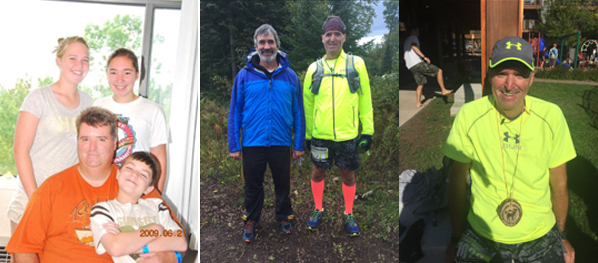 Written by Stacie Woods
Tony Woods, has a great story. This will be his first time running the (2017) Zumbro Endurance Run (17 Mile) – something he has been dreaming about for many years! In 2004, Tony's brother, Brian Woods, ran his first marathon. Tony and I became his cheering section and crew. After some time, Brian started running longer races, then trail races and Ultra races. Tony was at many of these cheering and crewing for Brian whenever he could (Brian has finished the Zumbro 100 three times and in 2012 completed the UMTR Gnarly Bandit Ultra Series). Tony admired his brother Brian's drive, fortitude and ability to persevere on these long runs. He told me after Brian ran Grandma's marathon in 2005, that he had hoped to run a marathon with Brian someday. To be honest, I think I gave him a polite smile and didn't say much. I didn't doubt his will or desire, but Tony had so many obstacles in front of him and I wasn't sure how he was going to do it.
Tony started running a few times but he just couldn't get to the point of being able to train for a race. There was always something that was getting in the way:
Since Tony was in his late teens, he has battled Rheumatoid arthritis. It's a nasty disease that didn't give him much of a break. The pain and swelling were always there reminding him of the damage that it was doing. It made things very difficult some days. On top of the arthritis, Tony had steadily gained weight until the point that he was diagnosed as morbidly obese which only exacerbated his arthritis and made training that much harder.
We have three great kids that were in year-round sports and Tony coached many of them. He was a softball coach of 12 years. He had also coached t-ball, baseball, soccer and football and then became a swimming official at swim meets. He loved coaching and he always, always put the kids first before himself.
While he was coaching and busy with life, he was diagnosed with cancer in May of 2007. Everything came to a screeching halt. The arthritis got worse with the cancer and he struggled through surgery and the effects of radiation for the next 1.5 years, but he came out a survivor!
Tony's most difficult obstacle has been his weight. He was active in high school and tried to remain active in college and while he began his career and we started our family. He tried different programs to lose weight, but it was difficult to maintain a program with constant travel with his job and he was never able to lose enough weight to be confident enough to start training.
Years went by and the kids were getting older and the older two went off to college, so there was less and less coaching or other activities to keep him occupied. I could tell that Tony felt like something was missing. He continued to crew for Brian as he ran Ultra after Ultra, enjoying the race atmosphere and the passion and camaraderie of the runners, volunteers and crews. His mom started going with to the races and they made the travel to the races (particularly Zumbro 100 and Superior 100). They made so many great memories and always loved being part of the racing family, but he always talked about wishing he was running too and that his dream would be to run one of these races.
In early 2015, Tony made some serious life changes. After years of being morbidly overweight (at his largest was at 365 lbs) and struggling with Type 2 diabetes he knew he had to do something and he began exploring the option of having a Gastric Bypass surgery. He had many concerns with the procedure but first and foremost is could he eventually not only run, but with the changes to his body be able to run longer trail races and eventually Marathons and even potentially running an Ultra some day! His other major concern was that he would relapse and gain all the weight he anticipated to lose after the procedure.
It was not easy, and he struggled with the decision for the longest time and told me that he thought having the surgery was giving in, or taking the easy route. In May of 2015, Tony made the decision to move forward and have the procedure done.
After recovering from the surgery things progressed slowly, there were a lot of lifestyle changes and mental issues he worked through, but one of the biggest changes that that Tony started running. Well maybe not running, but walking and walking farther and farther each week until slowly but surely, he started to include running for short periods, then longer and longer periods. He ran and ran and the weight started coming off until now he has lost almost half of his original body weight. He no longer is a type 2 diabetic and losing the weight helped take most of the strain off of his joints. He began slowly running 5k races, then 10k road races, but always wanted to get onto the trails like Brian and experience what it was like. He began with trail races by doing all four of the Endless Summer Trail Series runs in 2016 and built up to running his first marathon in September (Moose Mountain Marathon). He crossed the finish line on that beautiful September later afternoon and I could tell that he loved it! He was dirty, and exhausted, but with a wood medallion around his neck and the biggest smile on his face. This will be his second year running trail races and has several planned for this year beginning with Zumbro 17 and finishing with Moose Mountain in the fall.
As his wife I admire him every day for achieving his dream. He is truly an inspiration.