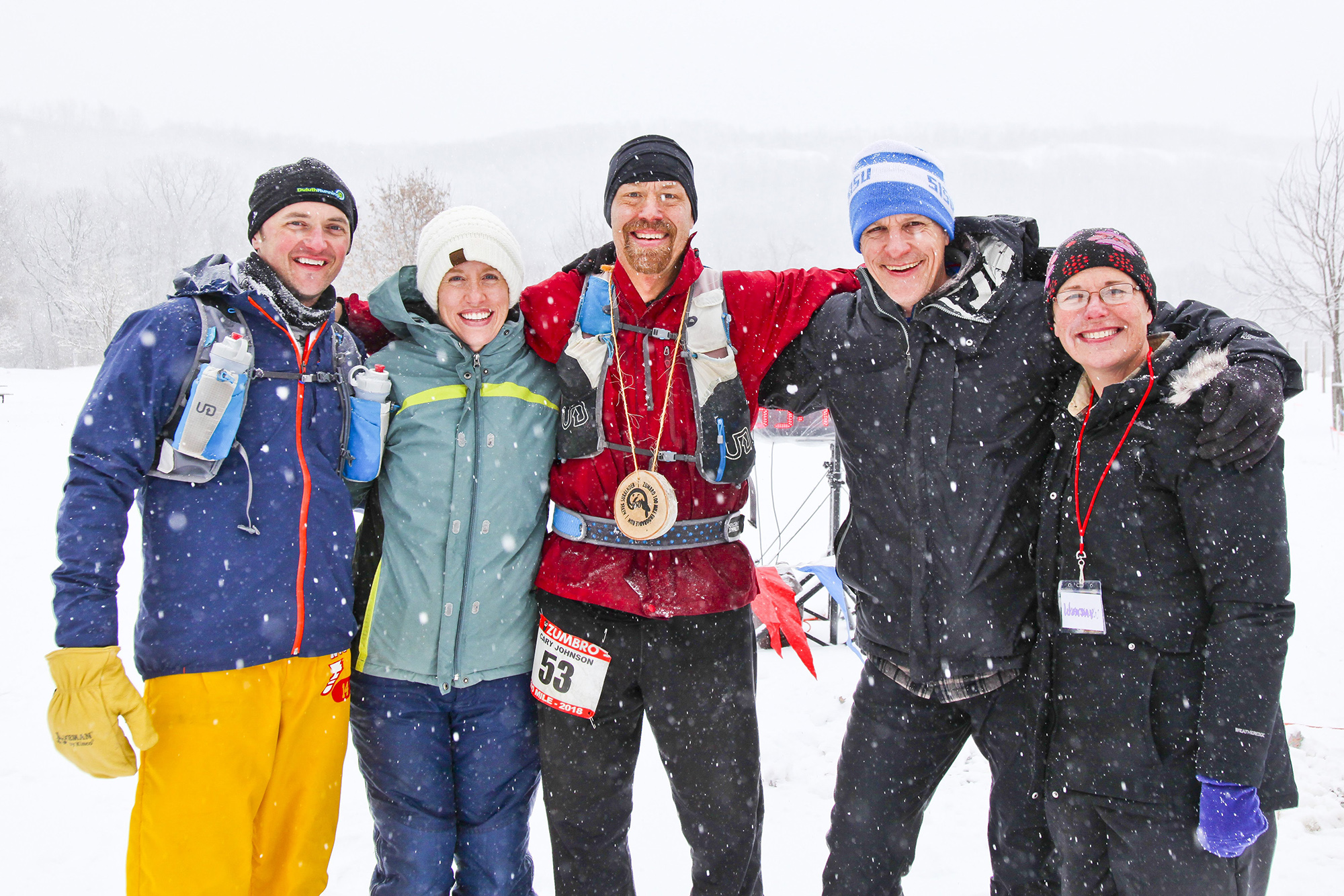 Given that finishing a 100 mile trail race is not your typical weekend event and this particular race went well beyond a typical 100 miler, I figured I'd better keyboard up and document the bugger.  Sorry for lacking brevity, but my social media skills are quite primitive. Grab a coffee, whiskey, beer . . . whatever you need to settle in. ~ Cary Johnson
I arrived at the Zumbro Bottoms campground just after 5 pm and found a place for my wall tent along the finishing shoot. Weather was warm, no wind, and the prerace atmosphere for the Zumbro 100 Mile Endurance Run starting in the morning was just as you'd expect. After setting up the tent and wood stove, I wandered over to the check-in area to get my bib and some dinner. The pulled pork sandwiches and generous piles of food were awesome and I chatted with some fellow runners and volunteers. Not surprising, the fellow runner conversations would move to the topic of the forecast that had been deteriorating all week and doing its best to overlay mother nature's best punches for the race. Those conversations then moved to the topic of gear to deal with said weather. "I brought the kitchen sink this time because I really had no idea how to prepare for all the different scenarios". I myself scrambled all week watching the forecast and trying to figure out a logistics plan that included trips to REI and TC Running Company to cover any gaps I could reasonably expect. Windy and rainy followed by windy and snowy guided by a steady drop in temperature from upper 30's to 20's as the race wore on. Would it matter?
I fired up the wood stove, finished organizing my drop bags and gear, guessed at what clothing I'd start the race in, and surprisingly fell into a decent sleep. At about 3 am I awoke to the rain the weatherman had promised and after my mind darted around a bit thinking once again about gear, I drifted back to sleep.
At 5:30 am the alarm sounded. I stoked up the fire and got the coffee started. Still raining of course, but the wind didn't seem too bad yet. The bright side.
In light rain, race director John Storkamp fired up the 120 checked in runners and off we went. The race started as expected with the single file climb up the first ridge with pace slowed until the densely packed runners started to stretch out a bit. I intentionally placed myself in the back half so I wouldn't get caught up in a faster group pushing an early pace. It was the first good look at the mud and water – the endless mud and water often ankle deep or more. I did see a few good falls in the mud, though I was able to stay upright – at least so far. Other than that, loop 1 was just measuring up the conditions, getting on a fueling and hydrating cycle, and getting to know a few more of my fellow 100 milers. I finished the first loop in about 4 and half hours hitting it a bit faster than planned so needed to make sure loop 2 was a bit slower. Other than my toes going numb off and on from the icy water, I had no issues to deal with and worked quickly through the main checkpoint with no gear changes and headed out on lap 2.
It seemed the rain had lessened on lap 2, but the mud hadn't gone anywhere making for another good slog through it. I did have a very memorable slice of pepperoni pizza. It is funny how certain foods just pop up at the right time when you need them. Thanks again volunteers. After about a 5 hour lap 2 and 33 miles down, I knew the Injinji socks had to go. The little glove like pockets for each toe are great for protecting the toes, but terrible for helping them stay warm and I was tired of numb toes. Body core temperature was great as I would add or remove my shell as needed to regulate and react to increasing rain. Sometimes I added the rain poncho when it came down pretty hard as even a good rain shell eventually leaks at the seams. Goal was to keep warm, but also stay dry by avoiding both rain and too much sweat. Tough to do in these condition, but you do your best.
Steve and Wenday Sorenson had recently arrived at the main start/finish support area and were now helping out at the main aid station for what would amount to a 24+ hour shift. Steve would have been my pacer for the second half of the race were he not scheduled for knee surgery in two weeks because of an earlier race injury. He was also the impetus that pulled me into the ultrarunning world when I paced and crewed his first two hundred milers at Superior and Western States. Steve and Wenday together with others simultaneously filled my water bottle, brought me some food and coffee, and ushered me into the warm tent for a sock change. I was pretty much solid mud below the knees and bless the wonderful gal who pulled off my muddy shoes and socks, poured warm water over them to get the worst of the mud off. It's surprising how much mud not only gets into your shoe, but also collects inside your tight fitting sock. John and Cheri Storkamp assemble an amazing crew of volunteers for all the races John directs and so many times those volunteers go above and beyond all expectations – even after a sleepless all night shift. By and large they are also ultrarunners who understand what a runner can go through in the course of all those miles.
After the food, drink, a few minutes off the feet and a dry pair of wool socks, I felt like a rejuvenated runner. I stayed with the same shoes as I didn't want to go to one of my two available extra pairs just yet. I made sure to get my headlamp as it would be dark before the next time I came through.
In Loop 3, the transformation of the course from muddy brown to snowy white was pretty much complete except for some of the deeper water areas, but overall I could now keep my feet drier and hence a bit warmer. Not too long before dark, I was running with Andrew Deering and we were talking about last year's winner and one of this year's favorites Doug Kleemeier. Andrew knew Doug and recounted what an incredible runner and likeable guy he was. Mere minutes later, a runner was approaching us at a good clip and I guessed it was the current leader. The runner turned out to be a smiling Doug Kleemeier who seeing Andrew, stopped and said, "let's polka". Before Andrew could even respond, Doug had him doing a great trail runner's polka giving us all a good laugh as snow continued to fall in the fading light. Just as quickly as the lesson started, Doug ended it, gave me a fist bump, and quickly put distance between us. Doug wouldn't finish this year's Zumbro, but certainly not because he couldn't. I'm guessing he simply chose to race another day.
As I closed out loop 3 in the dark and headed to the 50 mile mark, my body was feeling the effects of the trail – mostly my lower legs. 50 more miles seemed like a pretty daunting task at this point. My theory was all the cold water on the tendons in my lower legs made them very tight, but the muddy course demanding flexibility and good traction control pulled them in every direction possible. The combination equaled eventual pain.
Knowing loop 4 was through the night and temperatures would continue to fall, I headed to my wall tent at the main checkpoint with Steve where he helped me pull out my gear to do a complete changeover of clothes and shoes. After grabbing my now much needed hiking poles and some food, the second half was underway. I was about an hour ahead of the 50 mile start that would take off from this same point at midnight. The blizzard was doing what blizzards do and that midnight start scene was going to be one for the ages. The 50 mile leaders would be chasing me down in no time.
Loop 4 was a real challenge for me. "Doggone it Storkamp! How on earth could you keep making the check points further and further apart, but yet at the end of a loop, I only get credit for 16.7 miles? And those extra hills inserted, was that just for fun?" At around 60 miles in, I bonked. I was feeling pretty lightheaded and had that unmistakable feeling that everything I ate at the last couple checkpoints was going to reintroduce itself. I slowed heading into the next check point, grabbed a cup of coffee stood by the campfire the volunteers had going and attempted to gather myself. After about 5 minutes, I felt a bit better, drank some chicken broth and a quarter of PB&J, and ventured back out. The worst had passed I hoped. As I climbed now, the wind was getting a better and better line of sight on me and I cinched my hood a bit more to avoid having icy pellets driven into my face. Soon I was in a whiteout with no remaining tracks to discern the trail as the blowing snow obliterated them soon after they were made. The trail markers were mostly covered, but I could discern the trail by moving my headlamp left and right and staying between what looked like the best path through the trees. In the middle of this nasty stretch I met up with Don Lundgren who was doing the 50 miler. He had the great misfortune to break his ankle in this race two years earlier and this was his redemption run. We later chatted about how we were both wondering at this point how a finish was even remotely possible in these conditions. I was literally leaning sideways against the wind at times and marching for all I was worth to hopefully get to a section of trail that was better protected. Eventually the woods became quiet and still as I dropped into a protected valley. My mind relaxed a bit, but I still had over two loops to go and my shins were starting revolt on me. At this point, they didn't hurt running downhill which was good, but did hurt on the steady climbs. I guess that was better than the opposite case as I could still make time on the downhills.
Checkpoint 4 had many familiar faces volunteering with Bob and Lindsey Skenzich, Stu Sorenson, and Stu's friend Travis working through the night and beyond. That always gives a runner a boost. This was the point where Lindsey was going to jump in and start pacing me. Lindsey and Bob are both experienced ultrarunners and I was very lucky they were each willing to pace me for a loop. I did learn the 17 mile run originally scheduled for a few hours from now was cancelled because of the blizzard conditions both on the roads leading to the race and on the trails. Based on what I had experienced so far, this was no surprise. The risk all the way around with another 450 runners was too great. Good call Storkamp. Before we left, I told Lindsey I needed some Tylenol or even Advil for my legs. When the body is under duress, they say Tylenol is less risky, but I wasn't at Walgreens and Lindsey thankfully brought me some Advil. Off we went on the last leg of loop 4. We made it pretty quickly through the main checkpoint out onto loop 5. I was pretty beat, but now I had a pacer to keep me going and help take my mind off my troubles. I also knew now most 100 milers were dropping. Sure I could now drop and no one would even think much about it, but the thought of finishing this race in these conditions knowing there wouldn't be many had a certain appeal to it. Ok fine, it had a LOT of appeal to it. For better or worse, I told Lindsey we needed to maintain a healthy pace so I could hit loop 6 with plenty of margin. I wanted to be a finisher! Of course a healthy pace for me in the last 30 miles was all relative, but make time we did. This loop had the iciest conditions with Lindsey and I both falling before realizing there were hillsides where a butt slide was the most efficient option. Despite the icy spots, the trail was the best it had been as the snow filled in all the uneven terrain and was packed by just enough runners to make it ok to run on.
Lindsey asks, "Are you hallucinating yet?"
"Well I just saw some birds over there to the left flying in the blowing snow", I responded.
With a laugh, Lindsey says "you're ok. I saw them too".
Maybe I am hallucinating. Maybe I hallucinated that a muddy wet race course that was beating me up good somehow turned into a snowy, icy, windy course that resembles a sliver of Siberia. Amazing how creatively cruel the mind can be.
When we neared the turn where loop 5 becomes loop 6, I knew I couldn't linger without my legs seizing up so I made it a quick in and out grabbing a few more gels, a few bites of food and of course a couple more ibuprofen while Lindsey and Bob tagged up so Bob would have the absolute joy of dragging my dead ass for 16.7 more miles. "There's nothing left Bob, not sure how this is going to go". They say a 100 miler becomes more mental than physical and I guess I'm certainly in that boat now.
That last loop was pretty tough, but Bob kept me moving. In my mind, I refused to think about the finish and instead focused on staying on Bob's heels as best I could. There were still many variables at play with no guaranteed finish even though we did have some time margin. Up hill and down, I'd kept moving at the best pace I could manage. The legs were pretty well shot now and those little pain receptors in my brain were working overtime trying to process all the different inputs. The snow had picked up again since the last loop with Lindsey and the slick spots now had good traction with a new layer of sticky snow though the downside is there a bit was more snow to run through. The blizzard ridge was blowing pretty good again with 3-4 foot drifts along the trail. I post holed in a couple times, but nothing serious. Strange as it may seem, when out of the wind and not on a steep climb, I was able to look around and actually marvel at how beautiful the woods looked with all the fresh snow hanging in the trees. It was winter's last gasp and what a gasp it was. When we left the last checkpoint, there were 2.68 miles to the finish and for the first time, I Iet myself ponder the finish line. The race was so crazy with trail conditions and weather, I really wasn't sure about a finish from about mile 50 until now.
We were nearing the campground and finish area when I halted the march telling Bob I needed to get a bit more presentable for the finish. I'd been wearing the rain poncho over my shell unnecessarily for the last two loops only because I didn't have the energy to take it off. "I need to look good for the finish, it's an important photo op". I guess looking good is relative because if I look like my body feels, it won't be a pretty sight. I stowed the poncho in the back of my vest and we continued into the campground. I could easily count the few vehicles left and I guess it was the full realization that those last hardy volunteers were indeed keeping the basic support going for what could only be a handful of folks left on the trails.
I honestly gave no consideration to running across the finish line and instead raised my hiking poles in my right hand to salute a race that left me beaten up and humbled, but a finisher nonetheless. Steve and Wenday, now joined by Lindsey were among the last working the start/finish area and gave me a huge welcome as the wooden medal was put around my neck and the traditional 100 miler belt buckle was placed in my hand. I did it!
I was guided to the large wall tent with barrel wood stove and a chair next to that barrel wood stove. Wenday brought me a plate of food that included incredible delicacies like a grilled cheese with bacon and a chocolate chip bagel that was warmed up. A kind Zumbro 100 miler turned volunteer mid race brought me a cup of hot coffee. I sat in a bit of a daze for a while watching a gal toss 17 mile wooden medals into the barrel stove as all unused medals are destroyed. A voice pulled me from the fire trance and it was Don Lundgren who had just finished his first 50 miler in those epic conditions. He looked in pretty good shape and was certainly as pleased as I to be done. I was very happy for him as I saw him in 2016 at a checkpoint shortly after he had broken his ankle. That really sucked, but redemption was his now.
The last Zumbro race ritual was to sign the big Zumbro 100 banner that all Zumbro 100 finishers can sign and add the year. I gladly added my name and when putting down 2018, I thought about the 100 hard earned miles over 33 hours and 13 minutes and felt pretty good about being one of twenty names with 2018 next to it.
The question of "Why run 100 miles?" comes up from time to time and I guess it's a fair question. Since running motives and goals are often part of the personal journey, I'm sure the 100 mile question has many answers. I can say the number one reason I ran Superior 100 in 2016 was because I finally came to the realization I had to know if I was personally capable of completing a 100 mile trail race and there is obviously only one way to answer that question. Ok, the question was answered, so why run another one? What I learned from Superior is the journey of endless training followed by a 100 mile exclamation point was rather fulfilling in a way that is not easy to explain . . . so I won't try. Happy trails!